Craftsmanship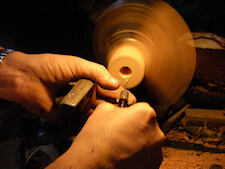 Northern Briars, by tradition, has a strong commitment to quality. Quality of materials and quality of craftsmanship developed from many years' experience.
Ian Walker sources his briar from Italy, where many pipemakers agree, the best stock can be found. Every pipe is totally handcrafted by Ian himself and all pipes have hand cut stems using the best grade German vulcanite. The 'rustication' of Ian's Roc Cut pipes is a time consuming process done entirely by hand. This unique finish has proved to be extremely popular. Ian's skill in silver mounting also enhances many traditional styles of pipes.
In 1999 Ian Walker started attending most of the English pipe shows. Since 2006 he has attended the Chicagoland Pipe Collectors Club Show, The North American Society of Pipe Collectors Show in Columbus, Ohio, The Conclave of Richmond Pipe Smokers Show in Virginia and the Dortmund Trade and Tobacco show in Germany. His pipes have been very well received at all these events.